Warner University
Company Name: Warner University
Address:
13895 Highway 27
Review:
Colleges & Universities | Adult Education,
Type:
4-year private, not-for-profit
Classification:
Baccalaureate Colleges--General: These institutions are primarily undergraduate colleges with major emphasis on baccalaureate programs. They award less than half of their baccalaureate degrees in liberal arts fields.
Students
Total enrollment:
1,001
Undergraduate enrollment:
1,001
Undergraduate men:
40%
Undergraduate women:
60%
Courses/Degrees offered
Less than one year
Associate's
Bachelor's
Majors
Accounting And Finance
Bible / Biblical Studies
Biology General
Business Administration And Management
Business Administration And Management
Communications General
Elementary Teacher Education
English Language And Literature General
English Teacher Education
Exercise Sciences / Physiology And Movement
Health And Physical Education General
History Other
Liberal Arts And Sciences / General Studies
Music Teacher Education
Physical Education Teaching And Coaching
Pre Theological / Pre Ministerial Studies
Psychology Other
Religious / Sacred Music
Science Teacher Education General
Social Science Teacher Education
Social Work
Special Education General
Sport And Fitness Administration / Management
Recommended:
Click here to Inform about a mistake
6
Rating:
Location & access map for "Warner University"
Photo from "Warner University"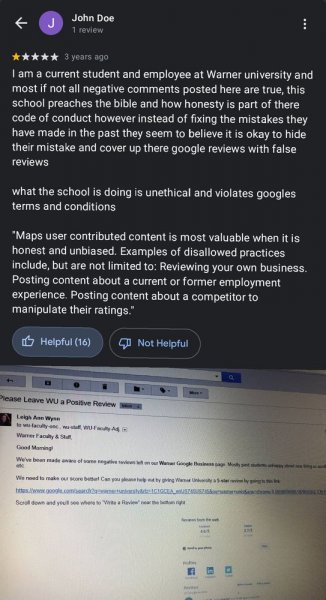 ---
Warner University (Universities, Colleges, Campusess)

about: